We've been meaning to get an annual pass to Busch Gardens for a while so when I saw the weather report for last Saturday, I knew it'd be the perfect time to go!
If you want to see an extremely irritable me, then take me to a theme park in the middle of summer in Florida & that's what you shall get! So I avoid any outdoor activities during the summer like a plague, but during the cooler months, you can't get me inside.
So we headed out on the brisk morning with a cooler packed with lunch & snacks in order to cut costs. I was so excited for our family outing!
First stop was Elmo's tree house in Sesame Street Land!
And we even braved the soaring suspension bridges that hung miles above the ground! Okay, maybe not miles, but it did seem pretty high!
At first Cam liked this bounce house made of ropes, but quickly changed his mind & became totally freaked out. He seriously would not budge from this spot so I was able to go inside & rescue him! It was so funny when he initially didn't trust the ground beneath him when he first left this rope hut. He was walking along as if the ground was about to give out.. poor fella!
Next it was on to a few rides which Cam loved!
And speaking of something he loved, this "cloud jump" was too cool! I was kind of jealous & wanted to go in & run around too!
Cameron even befriended another little boy & had a bounce partner for a while!
We were able to crawl through a tunnel of fish & watch the bats hanging from the trees above. Bats give me the heeby-jeebies!
And lucky for us Cam napped in his stroller for about 45 minutes so we were able to relax at the pub & enjoy a brew!
As we walked around the park, we kept commenting to each other about how well the grounds of Busch Gardens are maintained. Everything is perfectly groomed & bursting with color.
Before we headed home, we took a break by this fire hydrant, enjoyed some laughs, ice cream & music from a cool, little band!
We had such a great day & plan on taking full advantage of our annual passes while the weather is nice & cool.
And even though it was a really chilly evening, we wanted to play outside before it was time to turn the clocks back, thereby getting dark at 5:30.
Ugh!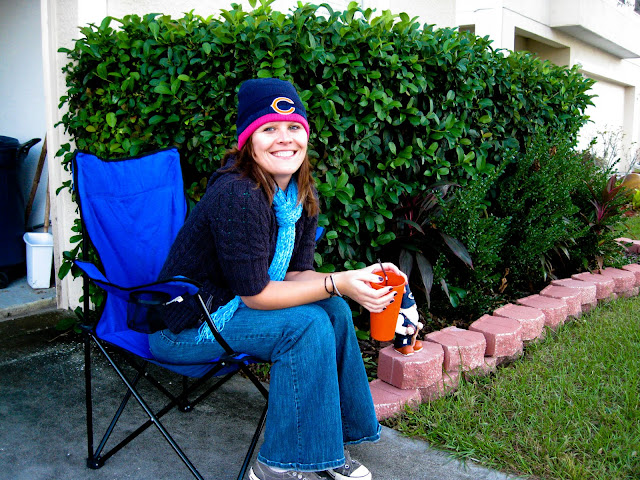 And I was
SO
excited to wear my new Bears hat that Mike surprised me with! The poor guy had enough hints from me about how much I wanted this hat.
We had an absolutely awesome Saturday!